Sepu vadi- A healthy spinach curry with lentil dumplings 


Sepu vadi is a specialty from the hilly state of Himachal Pradesh .Dumplings made of ground fermente lentils/urad daal, are boiled in water and then deep fried in mustard oil, and the gravy is made with spinach, dill,yogurt and whole spices. 
Sepu vadi is Best served with Rotis (Indian flatbreads) and cumin rice or just plain steamed rice. I have learned this from a friend of mine, and tweaked it a bit. Hope you will like this traditional Himachali recipe.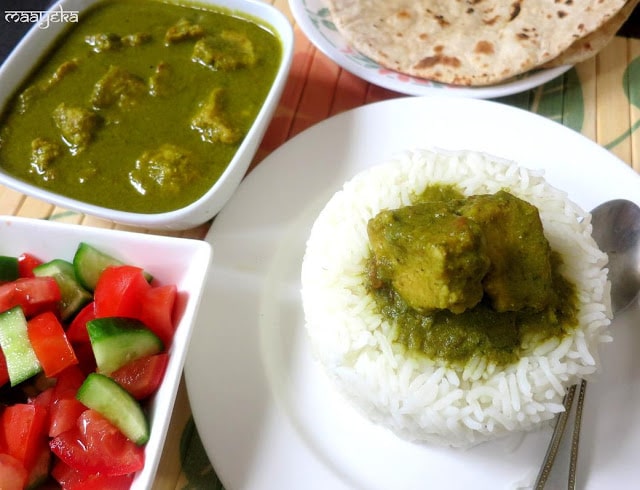 INGREDIENTS-
For the Dumplings (Vadi)-
Urad daal / White lentil – 1 cup
Crushed fennel seeds /kuti hui saunf- 1/2 tsp
Crushed pepper corns/kuti hui kali mirch – 1/2 tsp
Salt /namak- 1/2 tsp
For the Gravy- 
Tomato,chopped – 1
Curd /dahi- 1 cup
Spinach /palak- 100 gms
Dill leaves /suwa – 2 tsp(optional)
Cloves/laung – 4
Peppercorns/kali mirch – 10
Green Chilies/hari mirch – 2
Green Cardamom/hari elaichi – 2
Black Salt/Rock Salt – 1/4 tsp
Table Salt – 1 tsp
Turmeric /haldi- 1/3 tsp
Chili Powder – 1/2 tsp
Fennel Powder(saunf) – 1/4 tsp
Lemon Juice – 1.5 tsp
Water – 3 cups
For the Tempering-
Mustard oil – 2 tbsp
Cumin seeds – 1 tsp
Crushed Coriander seeds – 1 tsp
Asafoetida – 1/3 tsp
Black Cardamom – 1
Grated Ginger – 1.5 tsp
Bayleaf – 1
Cinnamon – 1/2 inch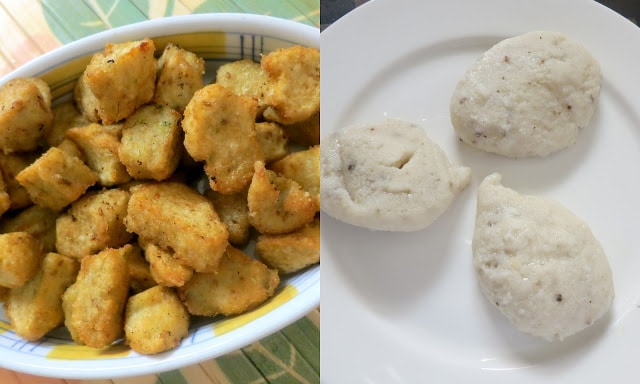 PROCEDURE-

For the Dumplings (Vadi) –
 Wash and soak 'urad daal' (white lentils) in 2 glasses of water for 4-5 hours.
Drain, wash and grind to make a smooth paste of moderate thickness.
Take the paste out in a bowl and keep it covered for 2 hours to let it ferment (I skipped this step).
Whisk well to make it lighter and then add 1 tsp of crushed fennel, 1/2 tsp of crushed pepper corns and 1/2 tsp of salt. Mix well.
Heat 2.5 glasses of water in a pan, and when it starts boiling take a big lump of the ground daal mixture (made in step 4) and drop in the boiling water and let it boil for 5 minutes.
Take the boiled lump out in a plate and let it cool down for 5 minutes and then chop to make medium size pieces.
Heat oil in a pan and deep fry the vadi pieces (made in step 5) till they're golden in colour (traditionally frying and cooking is done in mustard oil only, but you can use your choice of cooking oil for frying).
For the Gravy –
Wash and blanch spinach in hot boiling water for a minute.
Drain and refresh in cold water and then grind with dill, green chilies, green cardamoms, cloves and peppercorns to make a fine paste.
Take out in a bowl and mix curd and whisk well,then add 2.5 cup water and mix.(A)
Heat 2 tbsp of mustard oil in a pan, add 1 tsp of cumin seeds, crushed coriander seeds, grated ginger, bay leaves, cinnamon, 1 whole black cardamom (slightly crush to open the mouth) and asafoetida.
When cumin start crackling add turmeric, chili powder and fennel powder.
 Add spinach mixture (A).Let it boil for 5 minutes.
Now  add salt and the fried dumplings (sepu vadis) and let it simmer for 10 minutes.
Add lemon juice and serve hot.
Serving suggestions – Best served with cumin rice/plain rice and chapati.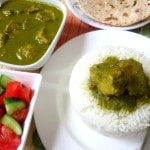 Print Recipe
Sepu Vadi , Lentil Dumplings in Spinach Gravy