Moong Sprouts- How To sprout  Moong Bean easily at Home
Why Moong sprouts are considered So Healthy
Moong Sprouts- Sprouts are known as the best health food as they are the store house of nutrients.The sprouted bean is more nutritious then the original bean.They are very good source of Vitamin A.B,C and E, Folic acid, Fiber ,Potassium, have natural estrogen a powerful antioxidant, rich source of omega-3 and omega -6 fatty acids and much much more.According to Ayurveda moong beans balances all the three doshas.
How To Easily Sprout Mung Beans
The best and easy way to use sprouts is to make them fresh at home,they are very easy to make so better then getting ready made sprouts.We can easily make different combination of sprouts according to our choice. I always make sprouts at home and thoroughly enjoyed the process !Sprouts can be eaten raw,can be steamed and stir fried or used to make gravy dishes ,the choice is yours.so be creative and experiment with sprouts.
Moong sprouts are the most popular sprouts as they are quick to sprout and easy to digest and you can make any sprout with this method ,just the germination time may vary according to the bean used.You can use Moong sprouts to make many dishes,I have also posted some recipes in my blog–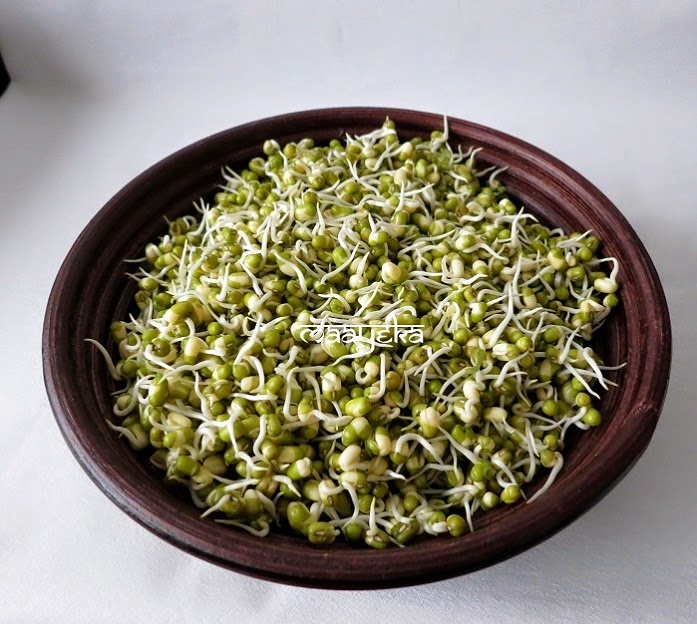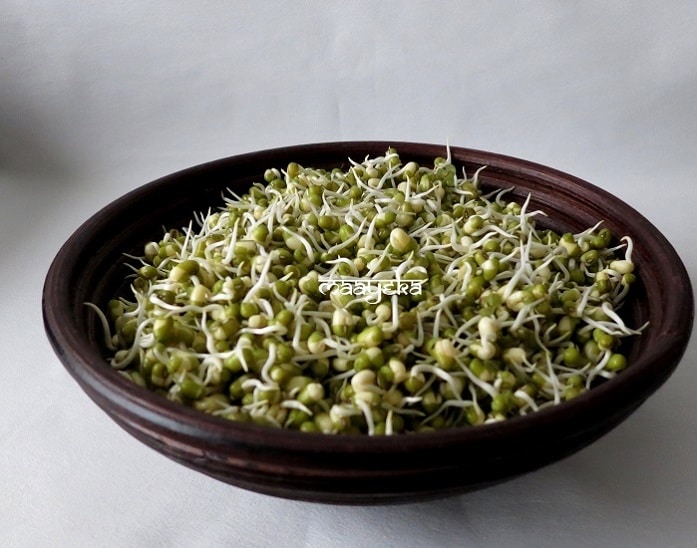 INGREDIENTS-
Whole moong beans -1 cup
Water
Container /colander
Muslin cloth
PROCEDURE-
Wash and soak whole moong beans in enough water.
Soak for minimum of 8 hours or overnight.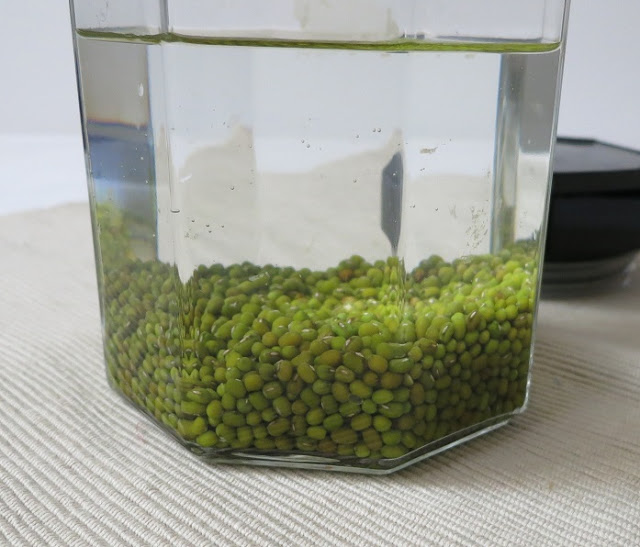 After 8 hours moong beans will absorb water and swell up to minimum thrice in volume.
Now drain the beans on a colander and wash with fresh water.
Discard /drain the water completely from the beans.
Transfer the beans in a jar/ bowl or vessel /Colander ,in which you want to sprout the beans .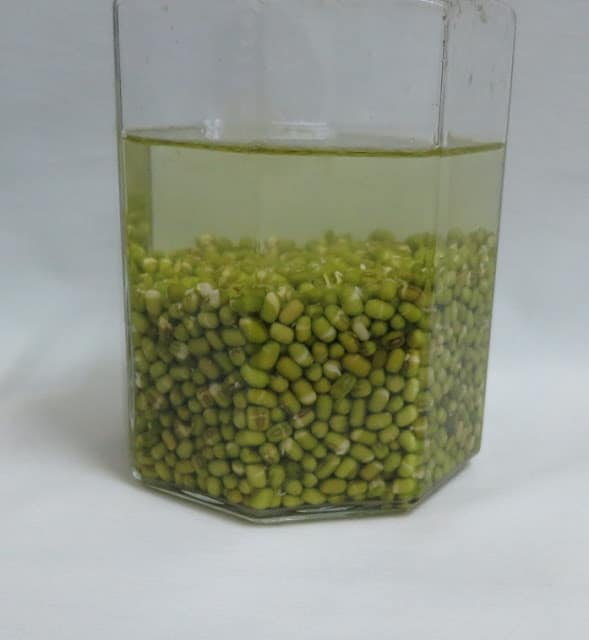 Cover the jar/ bowl /colander with a piece of muslin cloth / paper napkin /plastic sieve lid and tie with a ribbon or rubber band.
Second Method To Sprout Mung Beans
Take the soaked beans in a thin muslin cloth and tie it to make a loose beg and sprinkle some water over the cloth and then hang it some where in the kitchen or keep it in a colander,keep sprinkling water at regular intervals.
Time seeds Takes To Sprout
Wait for a day or minimum 12 hours .Sprouting also depends on the climate, I got these sprouts in 12 hours as the weather is hot in Dubai.
But in winters you may have to wait for minimum 2 days to see the tiny sprouts.
If you want to make long sprouts then wait for 2-3 days and keep the sprouts moist by sprinkling some water on them and then draining the extra water.
Don't shake or move or disturb the bunch of sprouts if you want to make them thick like store brought sprouts,occasionally sprinkle little water on them to keep them moist .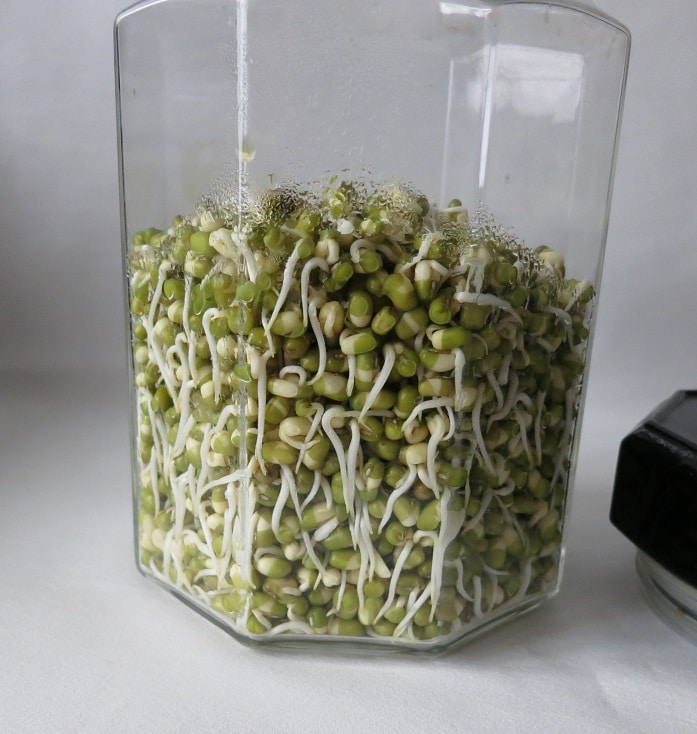 Tips and Points To Remember-
Remember to drain all the water from the sprouting jar /bowl,as water may cause foul smell in the sprouts and you may not able to consume them.
Don't close the lid of the jar or vessel ,because sprout need air to breathe otherwise they will mold or rot easily.
Wash or rinse the sprouts twice a day in summer season .
Same way you can make sprouts from chana/gram, wheat,cow peas/chawli, moth , alfa alfa, peanuts, almonds, matar/peas, masoor/red lentil ,all most any whole pulse or grain can be sprouted,but the time of sprouting may vary according to the bean used.
Don't keep the jar in direct sunlight,always keep in dry hot place
Stays fresh for a week in the refrigerator.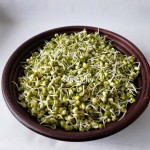 Print Recipe
How To Make Moong Bean Sprouts