Methi Aloo Paratha- Indian flat bread stuffed with mashed potato, herbs and few spices .
Methi Aloo ka paratha is a popular bread from Punjab.It can be served as a breakfast/ lunch or dinner ,taste great any time.During winter every one loves to have stuff parathas for breakfast and the most popular are  – Gobhi ka Paratha, Mooli ka Paratha ,Rajasthani special – Papad Paratha , Moong Daal Ka Paratha  etc.
During Winter season when Fresh fenugreek is easily available in the market then these methi aloo parathas are often made for breakfast .The fresh methi leaves are washed and then finely chopped .The leaves are then added in the wheat flour to make the dough.You can also saute the leaves and then add in the potato stuffing ,choice is yours but I prefer adding methi in the dough.
I have seen many girls facing problem in rolling the stuffed parathas ,some times the stuffing came out from the sides of the paratha or the stuffing did not spread evenly in the paratha.The most important thing is the texture of the dough,the paratha dough should be soft then only you can stuff and roll it easily,hard dough cant be stuffed and rolled properly.
The second thing is that how you boil the potatoes .After boiling remove the potatoes from the water,else they will absorb water and become soft and sticky .Best is to stem cook the potatoes or remove them immediately from the pan after boiling. Stuff the dough ball with the stuffing then press it with your fingers to flatten it slightly so the stuffing spread evenly inside and then start rolling gently ,if you press hard while rolling then the stuffing may come out from the sides of the paratha.Do follow these tips and you can easily make stuffed parathas .
If Fresh fenugreek leaves are not available then soak 5  tbsps of kasoori methi / dried feugreek leaves in water for 15 minutes and then squeeze and add in the flour and make the dough.(or add chopped fresh coriander leaves and make the dough ,dhaniya aloo parathas taste equally delicious)
These parathas are best served with Punjabi Mango pickle , Chili ginger pickle , Palak ka Raita and a hot cup of Masala chai.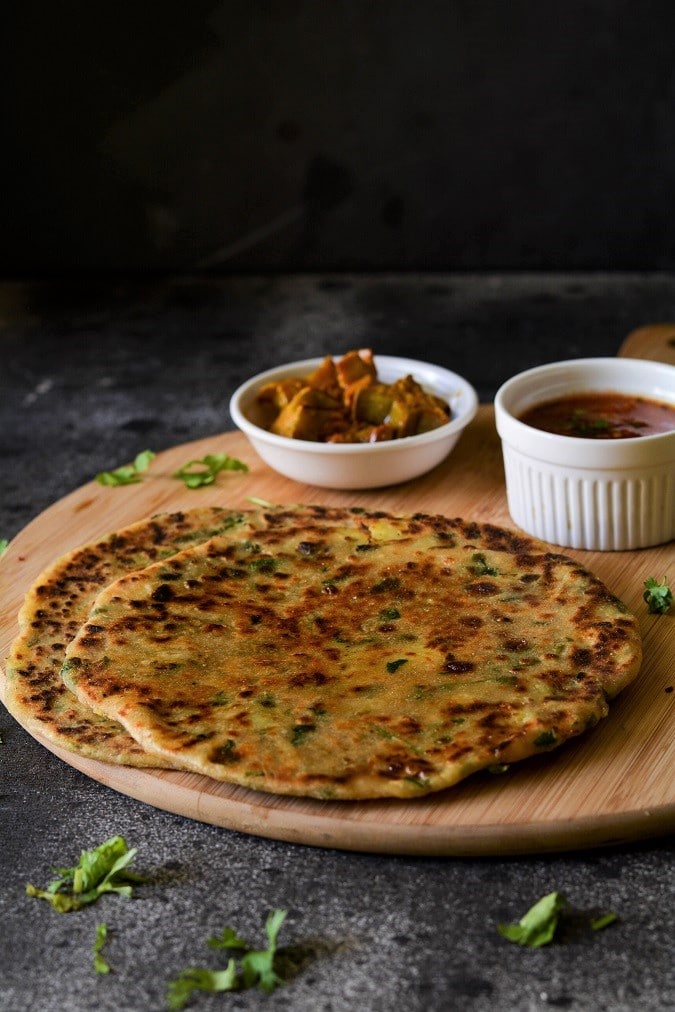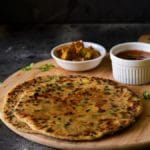 Print Recipe
Methi Aloo Paratha (Potato Fenugreek Flatbread)
Punjabi Methi Aloo Paratha-Indian bread stuffed with mashed potato,herbs and few spices
Ingredients
For The Dough
2

cup

Whole Wheat Flour / Atta

2

cup

Fresh Fenugreek / Hari Methi

2

tbsp

Cooking Oil

To taste

Salt / Namak
stuffing
3

Potatoes / Aloo

boiled

2

Green Chillies / Hari Mirch

finely chopped

1/2

tsp

Ginger / Adrak

grated

1/2

tsp

Red Chilli powder / Laal mirch powder

1/4

tsp

Cumin Seeds / Sabut Jeera

1

tsp

Ground Pomegranate / Anardana Powder

optional

1/3

tsp

Garam Masala Powder

To shallow fry

Cooking Oil
Instructions
For Making The Dough- Wash and chop the fenugreek leaves finely.

Take the flour in a bowl, add salt and oil and mix well.

Then add the chopped fenugreek leaves and mix again.

Make a soft dough by adding enough water. Cover and keep aside.

Stuffing- Peel and Mash the potatoes, and add finely chopped green chilies, ginger, chili powder, 1/2 tsp of salt (optional) Garam masala powder, cumin seeds, anardana powder and a teaspoon of oil. Mix well.

Make a small ball from the dough, flatten it a bit and place 2 tblsps of the stuffing on it. pull up the edges of the dough and make a closed ball so that the stuffing is concealed completely.

Dust the ball with some dry flour and gently roll the ball with a rolling pin to make a paratha of medium thickness (about the same thickness as a pancake).f you press it too hard then the filling may come out from the paratha.

Then dry roast it on a griddle/skillet/non stick pan, on medium heat.Then flip and apply little oil or butter on both the sides, and cook by pressing it with a spatula till both sides are golden and crisp.

When Paratha become golden and crisp from both the sides remove that from the griddle and serve hot .can apply some butter or ghee while serving.

Serving suggestion: Parathas go best with yogurt, Indian pickles or tomato chutney.
Notes
Note-
Anardana powder can be substituted with dried mango powder (amchoor).
If fresh fenugreek leaves are not available then you can wash and soak 3-4 tbsp of kasoori methi / dried fenugreek leaves in water for 5 minutes and then add in the dough.