Small Balls made with dried ginger powder, jaggary, peppercorns and melted ghee- Winter special recipe to protect from cough and cold
During winter we all look for recipes which give us some warmth and help to protect us from the cold and chilly winter. According to Ayurveda there are so many food items which are warm or hot in tasser and should be taken during winter and monsoon season. The most important is Ginger which is beneficial in both fresh or dried form .Peppercorn is also considered as warm in tasser so used in garam masala and tea masalas.
I always use ginger in My tea, daals and curries in all the seasons as it helps to fight with any infections of cough,cold and any weather changes.According to Ayurveda we should eat ginger before or with our food as it aids digestion. Ginger is also good for arthritis ,any type of joint pain or inflammation ,motion sickness and Nausea. Ginger is also good for heart health. I often makes –Instant Badam ka halwa, Golpapadi , Adrak Ki Sabzi /Ginger stew, Pista Barfi and hot and delicious Kharik Badam ka Doodh
I learned this saunth and gur ki goli ki recipe from a Gujarati friend of mine who makes these goli's in every winter and monsoon .This goli is very easy to make as no cooking is required in this exept melting the ghee. The recipe itself is quite forgiving as you can adjust the quantity of ingredients according  to your taste preference.
Normally the gur /Jaggary and sounth/dried ginger powder's ratio should be 1:1.5 but you can use 1:1 to 1:2 as how much sweetness you want to have in this ladoo. Addition of crushed peppercorn and pistachio is also optional ,you can add or just skip altogether. But the quantity of the dough you use to make these saunth and gur ki goli  should be 1 tsp-1.5 tsp or not more them a tbsp ,you can take 1-2 golis daily and can have twice a day with breakfast or warm milk. This is also a very good Post Natal food to give the new mothers.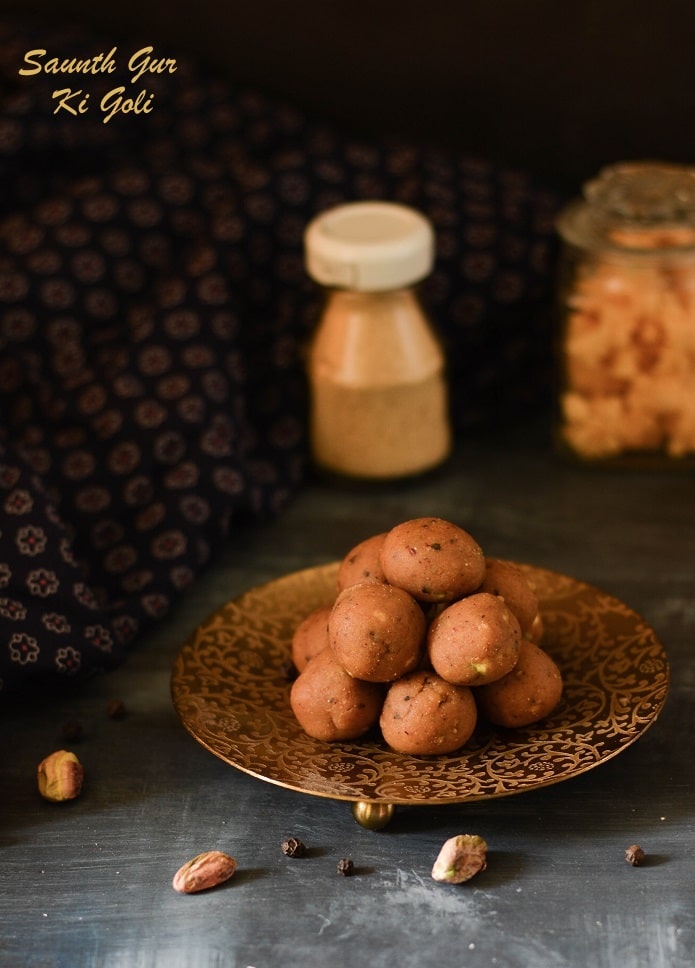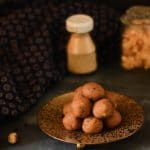 Crush or grate the jaggary to make it smooth and lump free in texture and keep in a bowl.

Crush or pound the peppercorns and pistachio .

Now add Ginger powder,crushed peppercorn and pista in the jaggary and mix well every thing.

Now melt the ghee (don't make it warm or hot ,we just need to melt the ghee)and add in the jaggry and gur mixture and mix it to make like a dough.

Now take about 1- 1.5 mixture and make small balls from it .

Store the saunth and gur ki goli in a box and use daily .

They stay well till they last:)
There is no Nutrition Label for this recipe yet.