Papdi gathiya farsan 
Gram flour crisps with spicy green chutney and stir fried sweet and sour carrots and peppers is a popular Breakfast from the North Western Indian State of Gujarat.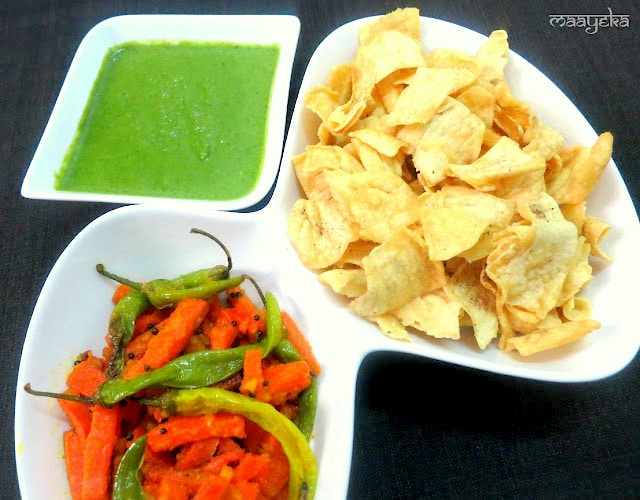 Gathiya, Paapdi, Faafda, and Dhokla are the most popular Gujarati breakfast items (or farsan as they are called in Gujarati).
They are served with a tangy green chutney and a sweet and sour stir fry of green chillies, carrots, papayas,or cabbage, which is called Sambharo.
The farsan shops often gives a delicious creamy 'farsan chutney', which is slightly different from the regular green chutney that we usually make at home. Sambharo and farsan chutney go well with almost all Gujrati snacks.
I am sharing the recipe of Papdi Gathiya, Carrot Sambharo and Farsan chutney, today and hope you all will enjoy this :).
PAPDI  GATHIYA
INGREDIENTS-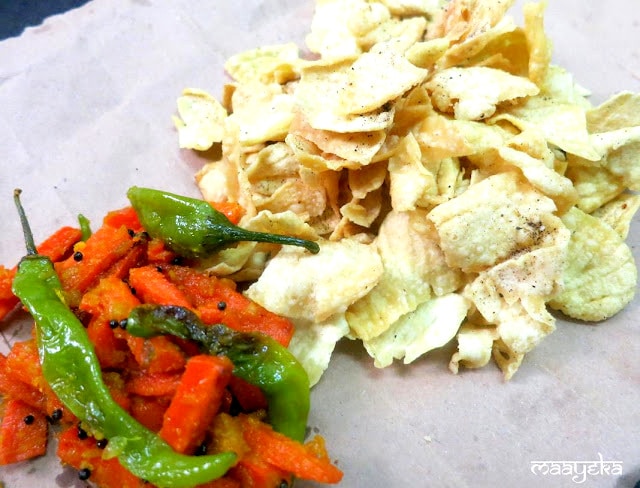 Gram flour -1 cup
Water – 1/4 cup
Salt – 1/2 t.s
Papad Khar – 1/8 t.s*
Refined Oil – 1/8 cup
Asafoetida – 1 t.s
Turmeric – a pinch
Black Pepper, Powdered – 1/2 t.s
PROCEDURE-
Take a pan and dry roast salt and papad khar (separately) on medium heat for around half minute.
Take a bowl, add water, oil, and papad khar and blend with a hand blender till it becomes a thick white emulsion.
Then add salt, asafoetida, turmeric and gram flour mix and make a soft dough.
Grease a sev maker/muruku maker/kitchen press or the traditional jhara and fill this sticky dough in it.
Heat oil in a wok (Kadai), and use the papdi maker to eject slices of the dough in the hot oil.
Deep fry on medium heat till they turn pink in colour.
Drain on a tissue and sprinkle asafoetida and  pepper powder.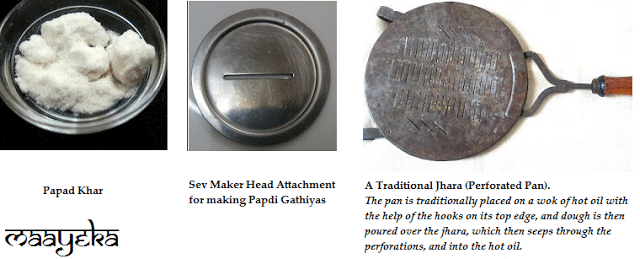 CARROT AND CHILLI SAMBHARO
INGREDIENTS-
Carrot – 1
Green Chillies – 8
Curry leaves – 6
Refined Oil – 2 t.s
Mustard Seeds – 1/2 t.s
Asafoetida – 1/4 t.s
Salt – 1/2 t.s
Turmeric – 1/2 t.s
Sugar – 1 t.s
Lemon juice – 1 t.s
Gram flour – 1.5 t.s
 PROCEDURE-
Peel and chop carrots into thin long slices and make small slits in the chillies.
Heat oil in a pan and add mustard and asafoetida.
When the seeds start crackling add curry leaves and whole green chillies.
Stir fry for a few seconds and then add turmeric and carrots.
Stir and add salt and then sprinkle gram flour. Cover and cook for 2 minutes.
Mix gently and cover and cook again for 2 more minutes.
Open and add sugar and lemon juice.
Mix and serve.
FARSAN CHUTNEY
INGREDIENTS-
Fresh Coriander – 1/4 cup
Green Chillies – 5
Spinach Leaves – 4
Mint Leaves – 8
Turmeric – a pinch
Lemon Juice – 1/2 t.s
Dhokla – 4 pieces
Sugar – 1 tblsp
Salt – 1/2 t.s
PROCEDURE-
Wash all the greens and chillies.
Take coriander, spinach, green chillies, mint leaves, sugar,salt and 2 tblsp of water and grind to make a paste.
Now add dhokla or any fried gram flour snack like Sev, Papdi or Ganthia (approx 100 gms).
Grind again, and add water only if required.
Take out in a bowl and serve with any snack like Kachori, Papdi, Ganthia, Dhokla etc.
Serving Suggestions – Serve all together for a delicious and filling breakfast


* Papad khar is an additive catalyst that is specially used in making papads and khichus. It is sold as white cubes or lumps and is easily available in India Provision Stores across the world. Papad khar is a mixture of Sodium Bicarbonate and Common Salt.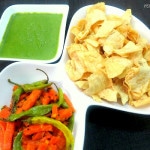 Print Recipe
Papdi Gathiya with Farsan Chutney and Gajar Sambharo