Matar paneer kachori -Fried shells stuffed with Peas and Cottage Cheese
Kachori is a snack which is a favourite of everyone who loves fried indian foods. During any festival we all make some thing savoury and spicy along with sweets. Kachori is always in the to do list of my festival preparations.
I love flaky kachoris and make them with different types of filling. Today I have tried a spicy green pea and paneer (farmer's cheese/cottage cheese) filling to make kachori which was liked by everyone in the family.
I have also posted – Urad daal ki khasta kachori , Aloo ki khasta kachori,  Corn Kachori and the famous Moong daal khasta Kachori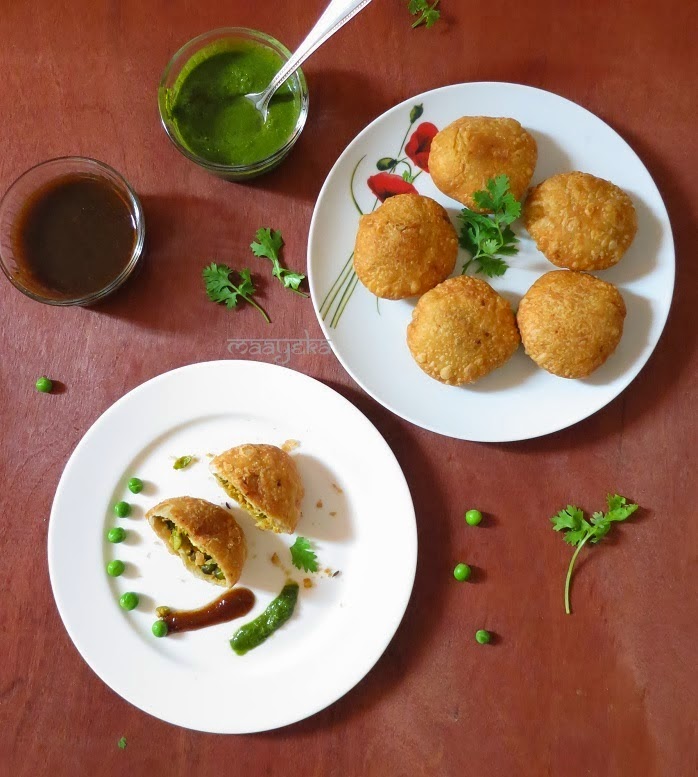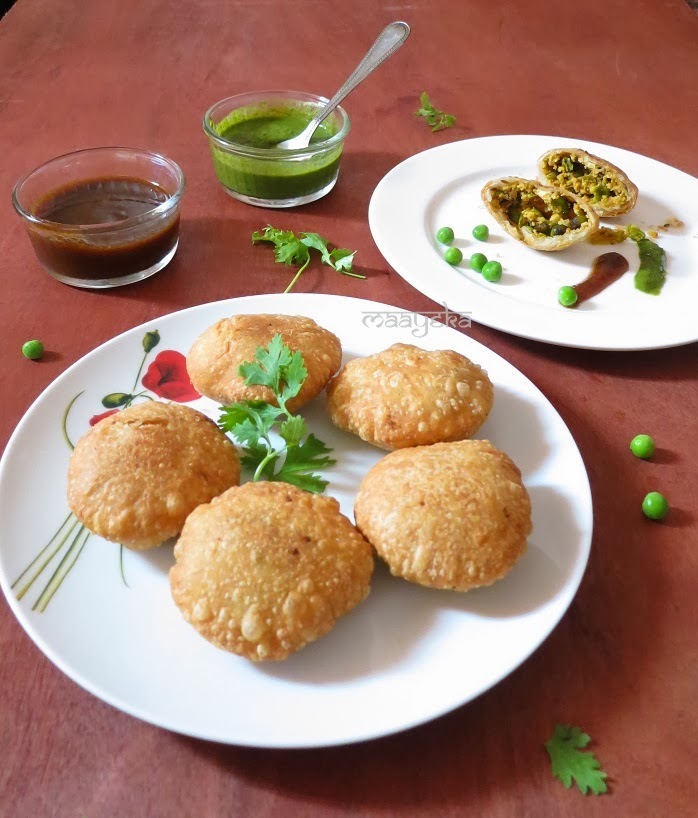 Prep time – 15 min
Cooking time – 20 min
Cuisine – Indian
Yields – 12 kachoris
Type-snack
INGREDIENTS-
Refined flour/maida – 2 cups
Cooking oil – 3.5 tbsp
Lemon juice – few drops
Salt – to taste
Filling-
Green Peas, blanched – 3/4 cup
Cottage cheese/paneer – 125 gms
Green chilies, chopped – 1 tsp
Mint leaves, chopped – 8
Fresh coriander, chopped- 3 tbsp
Asafoetida – 1/4 tsp
Cumin Seeds – 1tsp
Chili Powder – 1tsp
Mango Powder- 3/4 tsp
Turmeric Powder- 1/4 tsp
Salt – to taste
Cooking Oil – 3 tsp
PROCEDURE-
Heat oil in a pan and add cumin seeds.
When cumin become golden add turmeric, chopped green chilies and peas,stir and cover and cook for 2 minute.
Mash the peas with a ladle and then add all the spices and stir.
Now add crumbled paneer, mint and coriander and mix quickly.
Remove the filling in a bowl and keep aside.
Take a big bowl and add refined flour,salt and lemon juice and mix all.
Add enough water to make a soft dough ,cover and rest for 15 minutes.
Make small balls from the dough,flatten them a little with the rolling pin.
Put  about 1 tbsp of stuffing in the centre and then pull the sides to cover and and make a neat ball.
Stuff all the kachoris and keep aside.
Heat enough oil in a deep and heavy pan.
When oil become hot,put the flame on medium and add few kachoris in it.
Fry kachoris on medium flame (don't crowd the pan) till they become crisp and golden.
Drain the fried kachoris on a paper napkin and serve
Serving Suggestions – Serve with green chutney and date and tamarind chutney
There is no Nutrition Label for this recipe yet.