Methi Thepla- Delicious and flavorful fenugreek flatbread – a specialty from Gujarat
Methi thepla is a very popular Indian flat bread of India ,a specialty and staple from the state of Gujarat.Fresh chopped fenugreek leaves are mixed with flour and few spices ,kneaded with yogurt and then rolled out to make thin parathas.
They have a great shelf life so also good as a travel food.You need just a bowl of yogurt and little pickle to go with this.
You can also try these stuffed parathas-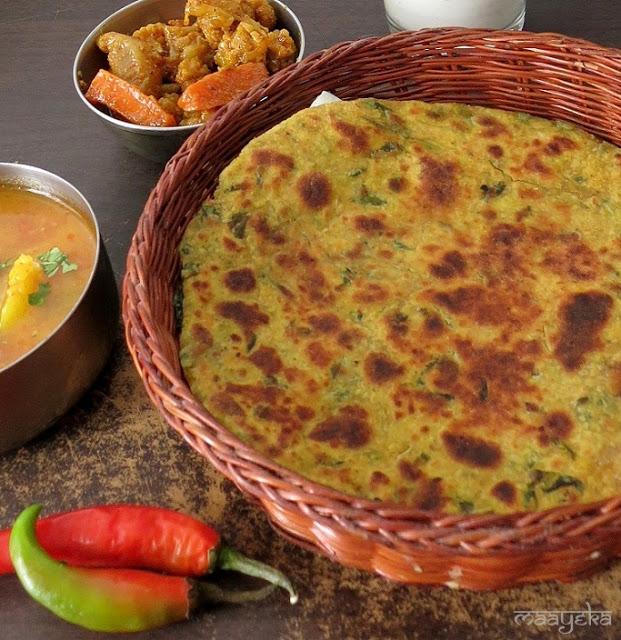 Prep time-10 min
Cooking time-10 min
Difficulty level-easy
Cuisine-Indian,Gujarati
Type-main,bread
Serve-3
INGREDIENTS-
Wheat flour /atta-2 cup
Gram flour/besan-1 cup
Fresh fenugreek/methi ,chopped-1.5 cup
Green chili,finely chopped-1 tsp
Yogurt-1/2 cup
Cooking oil-2 tbsp
Turmeric powder-1/2 tsp
Coriander powder-1 tsp
Chili powder-1/3 tsp
Sugar-1/2 tsp
Salt-1 tsp
PROCEDURE-
Take a big bowl  and add both the flours and spices,mix well
Now add oil and rub and mix well in the flour.
Now add chopped chilies and fenugreek leaves and green chilies and gently mash the mixture.
Add yogurt and make a medium soft dough. (Add a few tsp of water only if needed, or use some more yogurt)
Cover the dough and keep aside for 15 minutes.
Knead the dough ,you can add some dry flour if it become little softer and sticky.
Make round balls of same size from the dough.
Dust the balls with dry flour and roll to make medium thick parathas/discs.
Place the paratha on a hot griddle and lightly cook from both the sides.
Now apply 1 tsp oil and gently press with a flat spoon and cook  till golden spots start appearing on the side.
Turn the side and repeat the process and cook till it become golden from both the sides.
Remove the paratha from the griddle and serve hot.
Serving suggestions – serve with yogurt, pickle, or just with a cup of hot chai.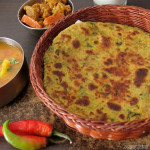 Print Recipe
Methi Thepla Recipe