Ajwaini masala arbi – Colocasia ,Taro root cooked with mild Indian spices.
Taro root/Colocasia is a tuber and is usually available during summers. There are various ways to cook this vegetable – you can boil, fry, or steam it and then add in any combination of tangy and spicy sauces (yogurt generally goes very well with taro). Every Indian state has its own special recipe to make taro root curries.
Its slightly slimy in nature so many people avoid making it but if done properly it turn out very delicious.First you have to be careful while boiling taro root as it should be boiled till just done, over cooked arbi will turn very slimy. While cooking you have to add some kind of souring agent to balance the sliminess and blend taste,yogurt, mango powder, tamarind juice or lemon juice can be added,but yogurt goes very well with arbi / taro root curry,so I always prefer to add some yogurt in arbi ki subzi. If Yogurt is not added then fry it well in enough oil else it remain slimy and not taste great
I have also posted these arbi recipes-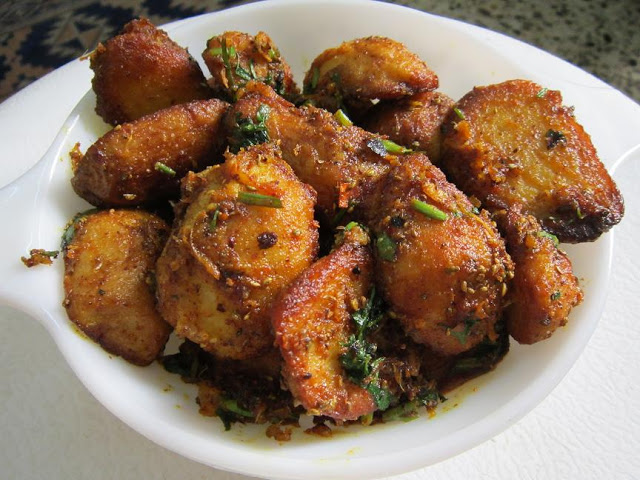 INGREDIENTS:
Preparation time- 10 min
Cooking time-10 min
serve-6
Arbi (Colocasia) – 500 gms
Grated Ginger – 1 tbsp
Ajwain (Bishop's Weed) – 1 tsp
Asafoetida – 1/4 tsp
Salt – 1/2 tsp
Chilli powder – 1 tsp
Turmeric – 1/2 tsp
Mango powder – 1/2 tsp
Garam masala-1/3 tsp
Lemon juice – 1 tsp
Fresh Coriander – 2 tbsp
Refined Oil – 3 tbsp
PROCEDURE:
Wash and pressure cook arbi for 2 whistles or boil in a pan till just done. Do not overcook.
Peel and divide each arbi in two pieces.
Heat oil in a pan, deep fry arbi slices till golden brown in color on high flame.**
Drain and keep aside.
Heat 3 tbs of oil in a pan,add ajwain and asafoetida,and when it starts crackling, lower the heat and add grated ginger and stir.
Now add the garam masala, turmeric and chili powder, mix and then  add the fried arbi pieces
Stir to mix all the spices with the arbi pieces. Add salt, mango powder, chopped coriander and mix again.
Sprinkle lemon juice and serve.
**you can make this dish without frying the arbi too. Frying is done to reduce the slimness of the arbi.
Serving suggestions: Can be served as an appetizer or as aside dish with rice and daal combo or rotis.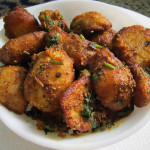 Print Recipe
Ajwaini Masala Arbi ,Colocasia ,Taro Root fry