Mildly spiced and creamy daal made with bengal gram and white lentils-specialty from Punjab
Maa ki daal is the most popular daal from the state of Punjab.Its quite heavy due to the addition of lots of butter and cream so this daal cant be made on daily basis. Maa /maah / kaali dal is made with whole white lentil /sabut urad daal .Ginger and asafoetida is added to make it easy to digest.I have also posted the recipe of making delicious- Maa ki daal/Daal Makhani
This maa choley ki daal is made with split urad daal /urad daal chilka and chana daal. This is a mildly spiced daal with minimum spice and little ghee or butter,so its not as heavy as maa ki daal. You can easily make it on a regular basis, in fact in Punjab its a regular in every kitchen.
Maa choley ki daal is also popular by the name langar wali daal as it is regularly served in the lungars of all Gurudwars .
You can adjust the spice level and thickness of this daal according to the consistency of your preference. If you want to serve with rice make it slightly thin and if you want to serve along with naan,roti or kulcha then make it slightly thick,tastes great both ways.
You need not to soak it overnight like the whole urad ,1/2 or 1 hours are enough to soak it so no  need of pre planning to make this simple,mild but flavorful daal .Make sure you dont over cook maa choley ki daal otherwise it may become like a paste while simmering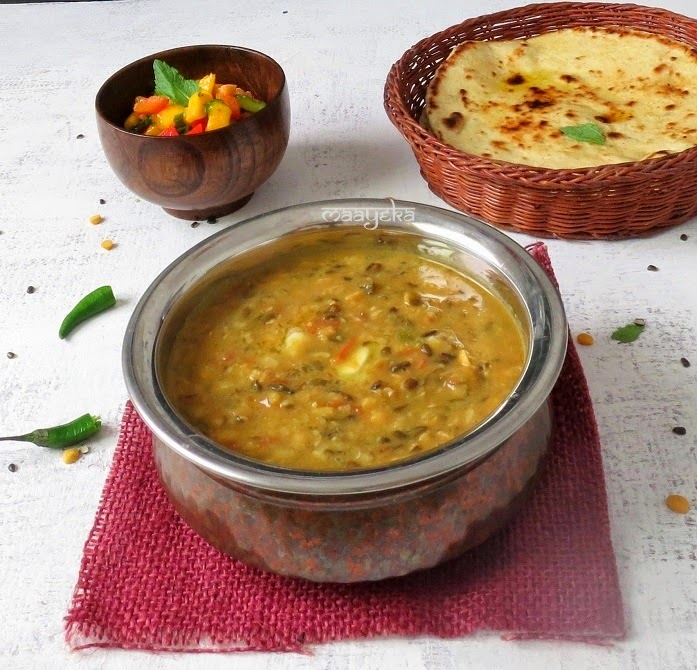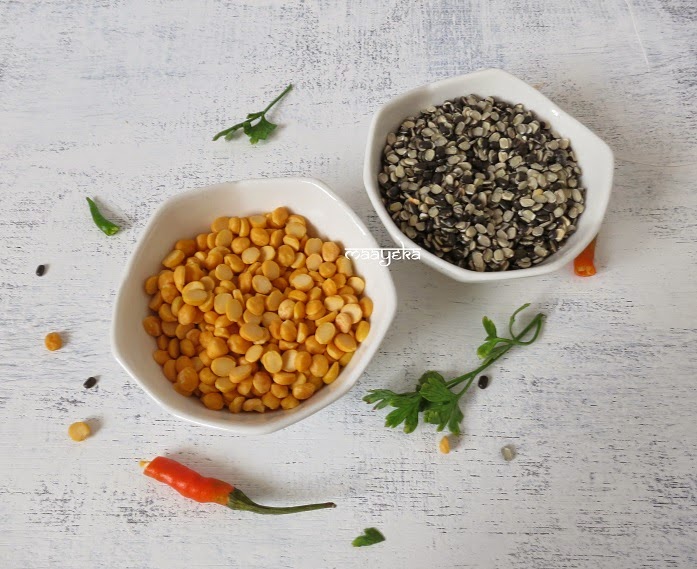 Prep time-10 min
Cooking time-25 min
Cuisine-North Indian,Punjabi
Difficulty level -medium
Type- main
Serve -4
Split white lentil /Urad daal chilka – 3/ 4 cup
Bengal gram /chana daal- 1/2 cup
Tomato,chopped- 1.5 cup
Green chili, chopped- 1tsp
Ginger, chopped- 2 tsp
Butter – 1.5 tbsp
Ghee – 2.5 tbsp
Cumin /jeera-1 tsp
Asafoetida /hing – 1/4 tsp
Bay leaf /tej patta -1
Ginger, grated-1/2 tsp
Chili powder- 1tsp
Kasoori methi /dried fenugreek leaves – 1.5 tsp
Garam masala – 1/2 tsp
Turmeric/haldi  -1/2 tsp
Salt /namak – to taste
 PROCEDURE-
Wash and soak both lentils together in enough water  for 1 hour.
After one hour slightly rub and then drain the water in which it is soaked.
Add the lentils in a pressure cooker and add grated ginger,chili, turmeric and 2 cups of water.
Pressure cook on medium heat for 2 whistles or till daal get cooked (dont overcook)
In a heavy bottom pan add ghee when become slightly hot then add cumin,hing and bay leaves
Now add chopped tomato,chopped ginger and salt and cook till tomato become soft.
Then add chili powder, turmeric and coriander powder and keep stirring till oil starts seperating.
Add cooked dal, 2 cups of water,kasoori methi and garam masala
Simmer for 10-15 minutes.
Add butter,fresh chopped coriander and serve hot.
Serving suggestions-Can serve with roti,kulcha, steamed rice or jeera rice