Valor Muthiya Ki Sabzi- Broad bean and fenugreek dumpling curry-Speciality from the state of Gujarat
Broad beans /Hyacinth beans /Valor /sem ki phalis is a seasonal vegetable.They are rich in fibre,vit A, Vit C, Vit K.
This bean is best combined with potato, brinjal and muthiyas. To make this valor muthiya nu shaak , deep fried fenugreek leaves and gram flour dumpling are cooked with broad beans and mild spices,this semi dry curry is served with bhakri or chapatis .
The most tiring or time consuming job is the cleaning of these beans.Broad beans should be de-string properly and then the pod should be opened to check the hidden worms.
I have also posted the classic combo of broad beans and potato-Sem Aloo ki Subzi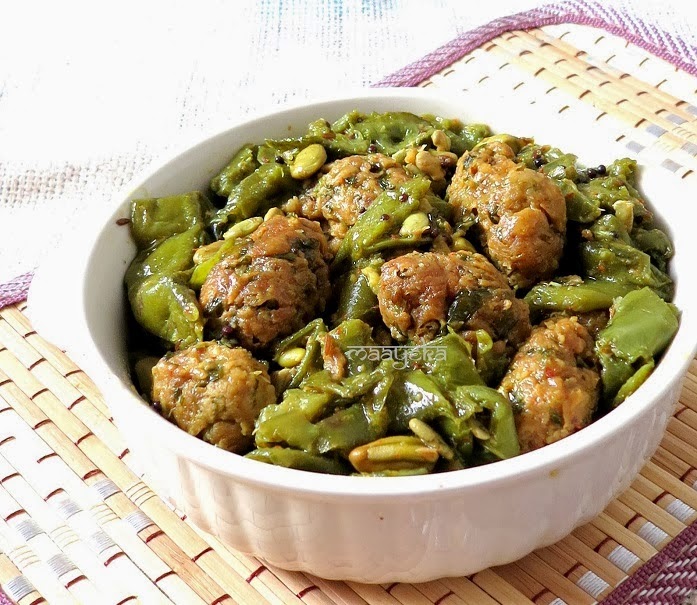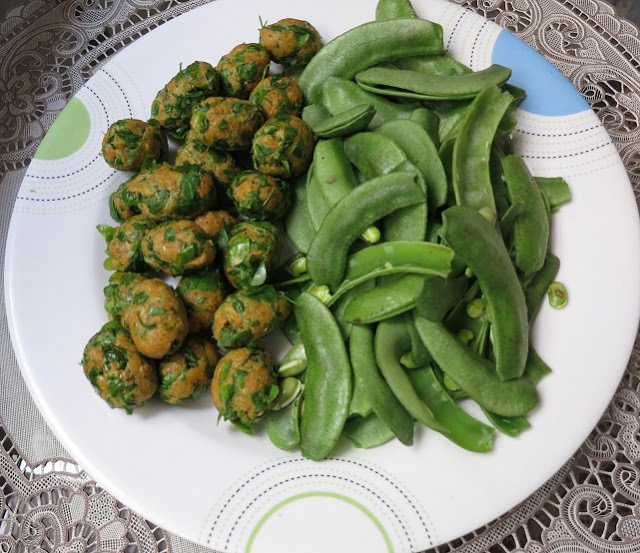 Prep time-30 min
Cooking time-25 min
Cuisine-Indian,Gujarati
Type-main
Serve-5
INGREDIENTS-
Broad beans /Valor /Sem ki phali-400 gms
Turmeric powder- 1/2 tsp
Chili powder- 1 tsp
Coriander powder- 1 tsp
Desiccated coconut – 1 tbsp (optional)
Lemon juice- 2.5 tsp
Salt- to taste
Sugar-2 tsp
To make methi muthiya-
Fresh fenugreek leaves/Methi, chopped- 1.5 cup
Gram flour /Besan- 1/2 cup
Wheat flour /Atta- 1/2 cup
Semolina /Sooji- 1 tbsp
Cooking oil- 3 tsp
Soda bi carb- a pinch of
Red chili powder- 1tsp
Turmeric -1/4 tsp
Green chili paste- 1/2 tsp
Ginger paste- 1/3 tsp
Salt-to taste
Tempering/waghar/tadka
Cooking oil -4 tbsp
Mustard seeds /Rai-1 tsp
Cumin seeds /Jeera- 1 tsp
Carom seeds /ajwain-1/3 tsp
Asafoetida /Hing- 1/2 tsp
PREPARATION-
Wash and de-string broad beans and then open the beans to check any hidden worms inside (don't skip this step)
In a big bowl add all the ingredients to make muthiya and mix well.
Then add little water and make a thick dough.
Grease yours palms and make small dumplings from the dough and keep aside.when you finish making all the dumplings then deep fry them in hot oil on medium heat till golden in colour.
Heat oil in a heavy bottom pan (use the oil in which you have fried the dumplings/muthiyas)
Now add the tempering ingredients and let them crackle on medium heat.now add turmeric and beans .
Add chili powder, coriander powder, salt, sugar and a pinch of soda bi carb in the pan.
Mix well and add 2.5 cups of water.
Now let it simmer till beans get half cooked.
Now add the fried muthiyas/dumplings in the beans, mix and simmer.
When beans and muthiya become soft add lemon juice and desiccated coconut and mix.
Serve hot with chapatis, bhakri or daal-rice combo
NOTE-
1-You can also serve these fried muthiya as a snack.
2-If fresh fenugreek is not available then can use some chopped spinach or coriander and kasoori methi.
3-You can also add 3/4 cup chopped tomato at step 10.
4-For a low fat version you can steam the muthiyas for 15 minutes, instead of frying in oil.
You can also follow me on Pinterest , Facebook , Twitter and Instagram for more delicious recipes and updates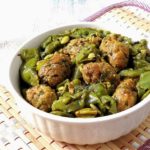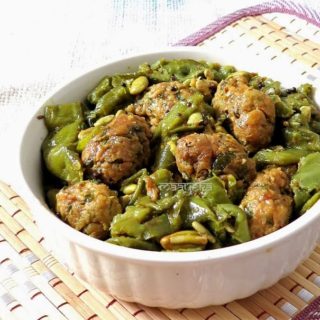 Print Recipe
Valor Muthiya Nu Shaak / Broad Bean Curry