Tomato Methi Rice -A rice preparation tossed in fresh fenugreek, tomatoes and Indian spices.
Tomato Methi Rice a perfect recipe to use your leftover boiled rice.Addition of tomato and fresh fenugreek impart an amazing flavour to the plain boiled rice. It is a quick and easy recipe with minimum ingredients .These ingredients are easily available at Home. If you don't have fresh fenugreek then you can use chopped spinach or fresh coriander.
You can also try these delicious rice preparation on my blog-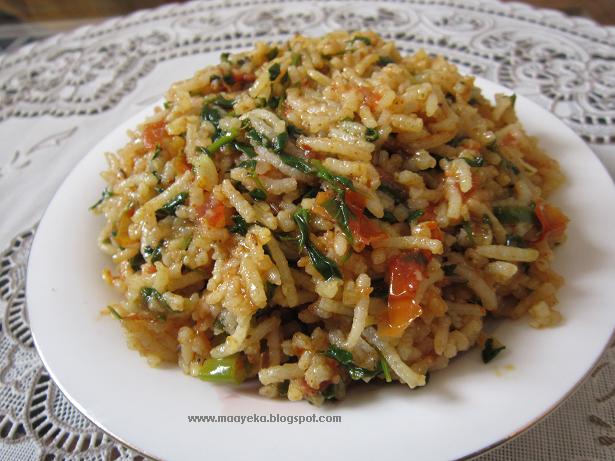 INGREDIENTS-
preparation time -5 min
cooking time-10 min
serve-4
Cooked rice-3.5 cup
Chopped fresh fenugreek -2 cup
Chopped tomatoes-1.5 cup
Chopped green chillies-3
Grated ginger-1/2 t.s
Oil- 3 tbls
Cumin seeds- 1 t.s
Turmeric powder- 1/2 t.s
Lemon juice- 1 t.s
Garam masala powder- 1/2 t.s
Salt- 1 t.s
PROCEDURE;-
Heat oil in a pan, add cumin,when it become golden in colour, add green chillies and chopped  fenugreek .
Stir for few seconds and then cover and cook for 1 minute.
Then add tomatoes, turmeric and salt.mix and cook covered for few minutes till tomatoes become soft
Mash tomatoes with a laddle and add ginger and  all the spices and mix .
Now add cooked rice ,mix gently and cook coverd for 2 minutes.
Add lemon juice and serve hot .
serving suggestions-serve with curd or boondi raita and papad.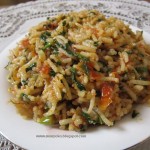 Print Recipe
Tomato and Methi Pulav ,Tomato rice