Tangy and delicious Bitter gourd fritters
Karela or bitter gourd is a very healthy vegetable and is popular in Asian countries.It has been used to treat diabetics,purifys the blood, good for the patients suffering from piles, good for stomach, aids weight loss,boost immunity and much mUch more.So its a very good idea to include karela in your diet during season.Me and my family love karela  so I have  posted some delicious bitter gourd recipes in my blog-
Stuffed karela
,
Khatta metha karela
,
  Daal karela,
and 
Crispy Karela kachri
.
karela have numerous health benefits even though there are many people who avoid eating karela,but this crispy karela pakora is so delicious that every one will like it ,so give it a try and you will surely like it.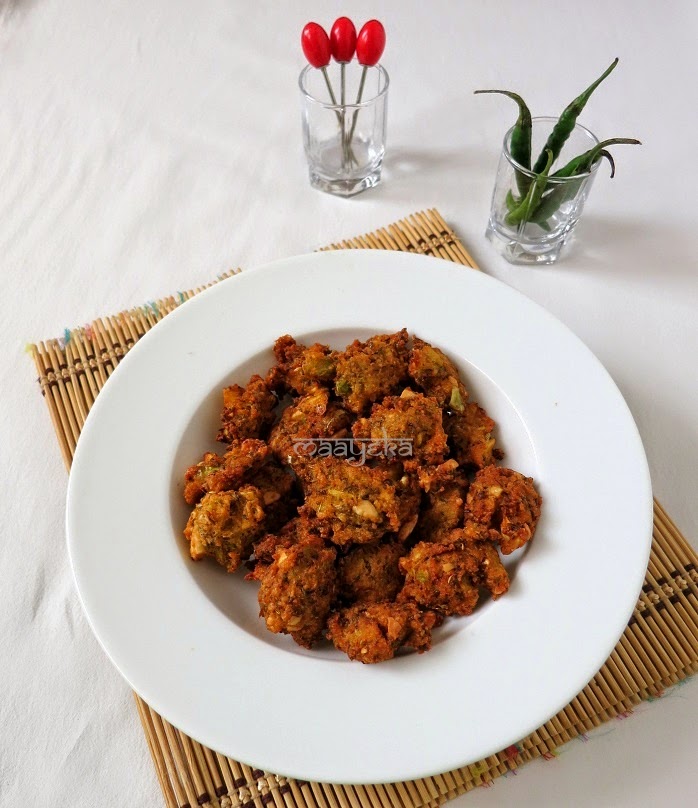 Prep time-15 min
cooking time-15 min
Type-snack
serve-4
INGREDIENTS-
Split green moong daal/chilke wali moong daal-1 cup
Gram flour/besan-2.5 tbsp
Bitter gourd /karela-1(medium)
Raw mango,finely chopped-2.5 tbsp
Cashew pieces- 2 tbsp
Chili powder- 1.5 tsp
Corinader seeds-1.4 tsp
Fennel seeds-1 tsp
Green chilis ,chopped- 2
Fresh coriander,chopped -1/4 cup
Salt- to taste
PROCEDURE-
Wash and soak moong daal/Green lentil for approx 3-4 hours.
Scrape karela and grate it, remove all the hard seeds before grating.
Slightly crush fennel and coriander seeds.
Drain the water from moong daal and grind to make a coarse paste.(don't remove the skin of moong daal)
Now add grated karela/bitter gourd,chopped raw mango and all the spices in it.
Mix and beat the mixture well and rest it for 5 minutes.
Heat oil in a deep and wide pan.
Make small fritters from the mixture either dropping by wet hands or use a small spoon tp drop the mixture.
Fry on medium heat till golden in colour.drain on a tissue paper.
Serve hot
Serving suggestions-serve with date and tamarind chutney or ketchup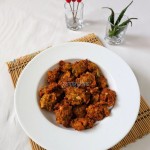 There is no Nutrition Label for this recipe yet.