A fragrant spice mix to make tandoori dishes/Indian style barbecues
Tandoori food is a favorite among Indians, and unlike popular belief, it is not limited to only non vegetarian dishes. Many vegetarian dishes are made by roasting or grilling the ingredients in tandoors/clay ovens or griddles. Tandoori paneer tikka, tandoori gobhi, mushroom and and many other vegetables form the basis of a wide range of tandoori dishes are enjoyed all over India and abroad. The general idea is to mix tandoori masala in yogurt to make a flavorful marinade which has an authentic tandoori flavour to it.
Tandoori masala is a flavourful spice mix which is usually used to marinade tandoori dishes and barbecues. It has smoky, fragrant and earthy flavours. Whole aromatic spices are used to make tandoori masala. Though ready made tandoori masala is easily available in the market but the quality is not as good as you get by making your own blend at home. Ready made tandoori masala also has added red food colour to give that bright artificial hue which I don't like in my food.
To get fresh flavours don't use powdered spices to make Tandoori masala as powdered spices lose their flavour after some time in storage. Use fresh and whole spices to make tandoori masala and don't make it in large batches as fresh tastes best. Adding food colour is optional.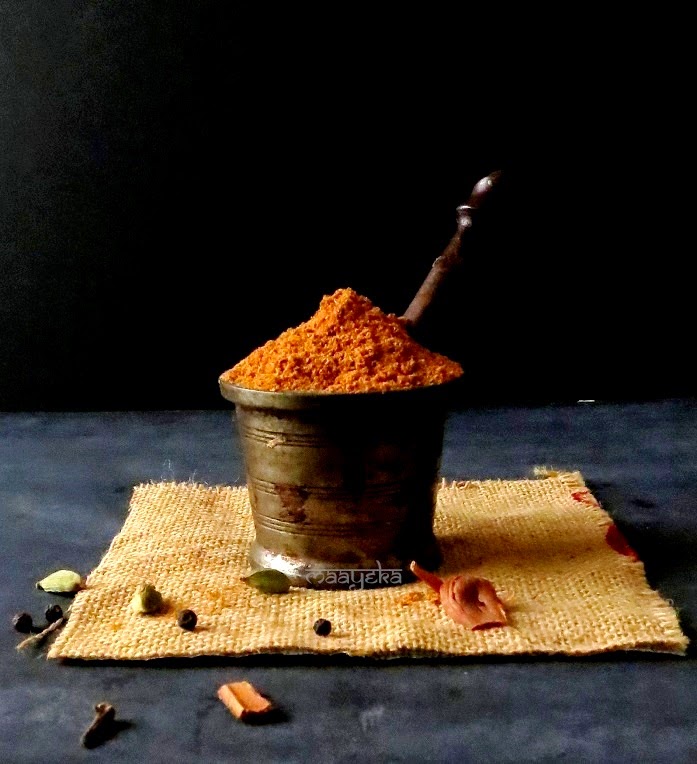 In a heavy bottom pan add all the ingredients in "List - 1"

Roast on low flame till it starts giving out a nice aroma (don't over do it).

Take it out in a plate and let it cool down completely.

Take the spices in a mixer jar and grind.

Now add the ingredients of " list- 2 " in the jar and grind together to make a fine powder.

Take the blended mix out in a bowl and let it cool down completely.

Store in an air tight jar.
There is no Nutrition Label for this recipe yet.