Lobhia curry – Healthy and delicious black eyed pea curry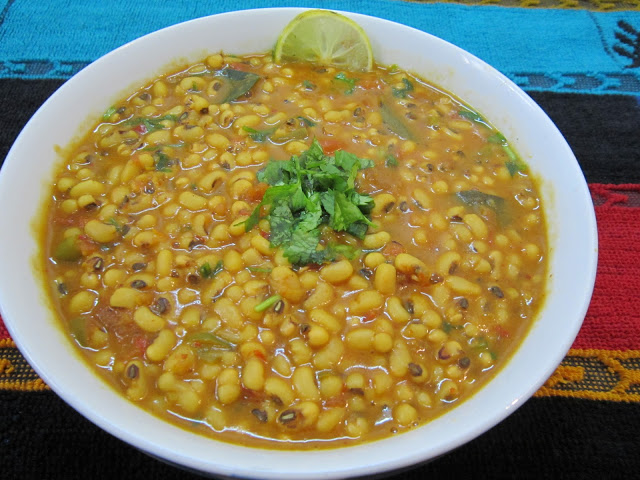 INGREDIENTs
preparation time-10 min
cooking time-15 min
serve-4

Black Eyed Peas (Lobiya/Chawli)- 2oo gms
Green Chillies – 2
Tomatoes – 3
Ginger Minced – 1 tsp
Turmeric powder – 1/2 tsp
Salt – 1 tsp
Black Salt (Rock Salt) – 1/3 tsp
Red Paprika Powder – 1 tsp
Asafoetida (Hing) – 1/4 tsp
While Cumin – 1/2 tsp
Ajwain Seeds (OmamCaromBishop's Weed) – a pinch
Garam Masala – 1/4 tsp
Tamarind paste – 2 tblsp*
Curry Leaves – 6
Cooking Oil – 3tblsp
Procedure:
1. Wash and soak the black eyed peas for about 2 hours.
2. Drain the water. Add 1/2 tsp of turmeric, and pressure cook with just enough water for 3-4 whistles on medium heat.
3. Puree together tomatoes, ginger and green chillies and make a fine paste.
4. Heat oil in a pan. Add cumin, asafoetida, curry leaves, tomato puree, and cover and cook for 2 minutes on medium heat.
5. Add ajwain, paprika powder, 1/4 tsp turmeric, salt and black salt in the tomato puree and cook till oil start separating from the puree.
6. Add the boiled black eyed peas and a glass of water to the cooked puree.
7. Mix well, cover and let it simmer for 5-8 minutes, till the sauce starts thickening.
8. Now add the tamarind paste, garam masala and chopped coriander.
9. Cook for another minute and the black eyed peas are ready to eat.
Serving suggestion: Serve with cumin rice or any bread of your choice.
*Lemon juice can be used as a substitute for tamarind paste.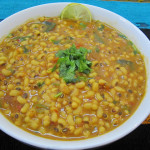 Print Recipe
Lobhia Curry , Chawli , Black Eyed Peas Curry