Steamed savory dumplings of spinach and fresh fenugreek
We Indians love snacks as much as we love our main course dishes. There are numerous snacks in each and every state of India but Gujarati snacks are the most popular ones in the North. Be it the soft and delicious – Sandwich dhokla ,Sooji dhokla , Corn kachori , Kharyo  ,the tangy Paatra or the authentic Makai ka khatta vada  everyone loves to have a bite of these delicious snacks.
Muthiyas are among the most popular and healthy snacks as they are made with lots of vegetable and an assortment of flours and very little oil is used for tempering . There are many versions of making muthiya and you can use any vegetable like greens, gourds, or any combination of vegetables of your choice to make muthiya like I have posted – Cabbage muthiya. It is an easy, healthy, and quick snack which can also be easily packed for lunchboxes, picnics, and as a travel food too.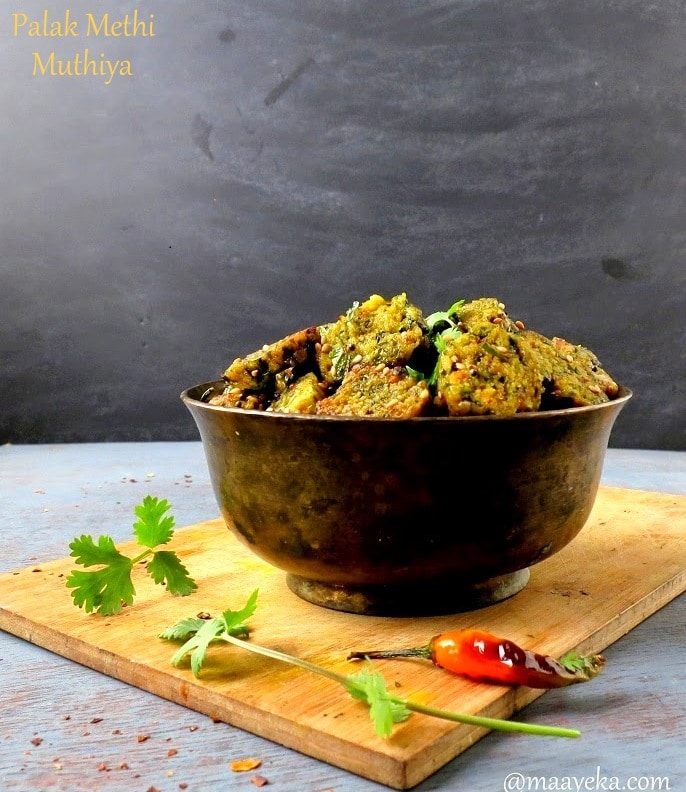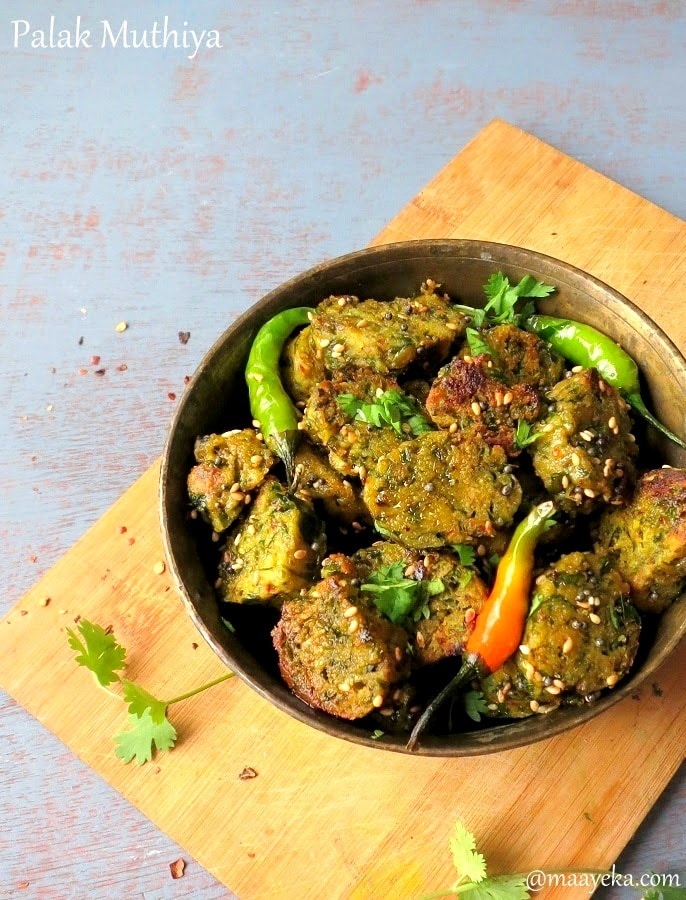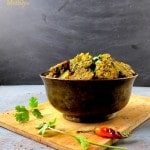 Tempering /Tadka /waghar/
Wash and squeeze water from spinach and methi leaves and then chop them finely.

In a big bowl add the chopped leaves ,all the flours ,semolina,curd ,oil,soda ,1.5 tbsp lemon juice ,salt ,sugar ,ginger chili paste,cumin seeds and salt and mix well to make a soft dough.

If the mixture is too soft to handle then add some more gramflour and wheat flour.

Grease your palms and make long medium thick logs of about 6 inch and 1 inch diameter.

Boil about 2 glasses of water in a steamer and grease the sieve or plate which you will use for steaming.

When water start boiling place all the rolled logs in the steamer and then cover the pan and steam for about 30 minutes on medium heat.

When done remove the logs from then pan and let them cool down slightly.

Slice the steamed logs into medium size slices.

Tempering - heat oil in a broad deep pan.

Add mustard seeds and sesame seeds in it.

When seeds start to crackle then add asafoetida ,curry leaves and green chilies.

Now add the sliced muthiyas in it and stir fry for a minute.

Add 1.5 tbsp of lemon juice and fresh coriander and mix.

Serve hot with coconut chutney or mint chutney
There is no Nutrition Label for this recipe yet.