Palak Aur Makhana ki Sabzi- a simple and delicious spinach and fox nut curry
Phool Makhana /fox nut is often used as fasting food but has wide health benefits. It is a good source of calcium.It have a low glycemic index so diabetic people can easy include it in their diet .It is rich in fiber.It helps in the health of kidney and heart.It is very good for the lactating mothers . Makhana seeds have calming properties to helps in insomnia and stress, very good for arthritis and is an anti oxidant food thus have anti aging properties .
It should be included regularly in our diet to get so many health benefits .Makhana have a good shelf life and can be easily stored at room temperature in a air tight jar ,no need of refrigeration. You can roast it in very little ghee and make a delicious crisp snack which can also be used during fasting- Roasted Phool Makhana Namkin and an easy creamy and delicious Phool Makhana Kheer  can be enjoyed any time.
The easiest way to use makhana is to add roasted makhana in a jar and add in your regular curries which you make on daily basis , it absorb the flavours  and goes well with almost any spicy curry. Yesterday I was planning to make Corn Palak Curry but then I tried this palak and makhana ki sabzi and instead of adding corn kernels  I added makhana/fox nut and it turn out very delicious . Do try this curry once ,it goes well with rice, pulao and any Indian bread.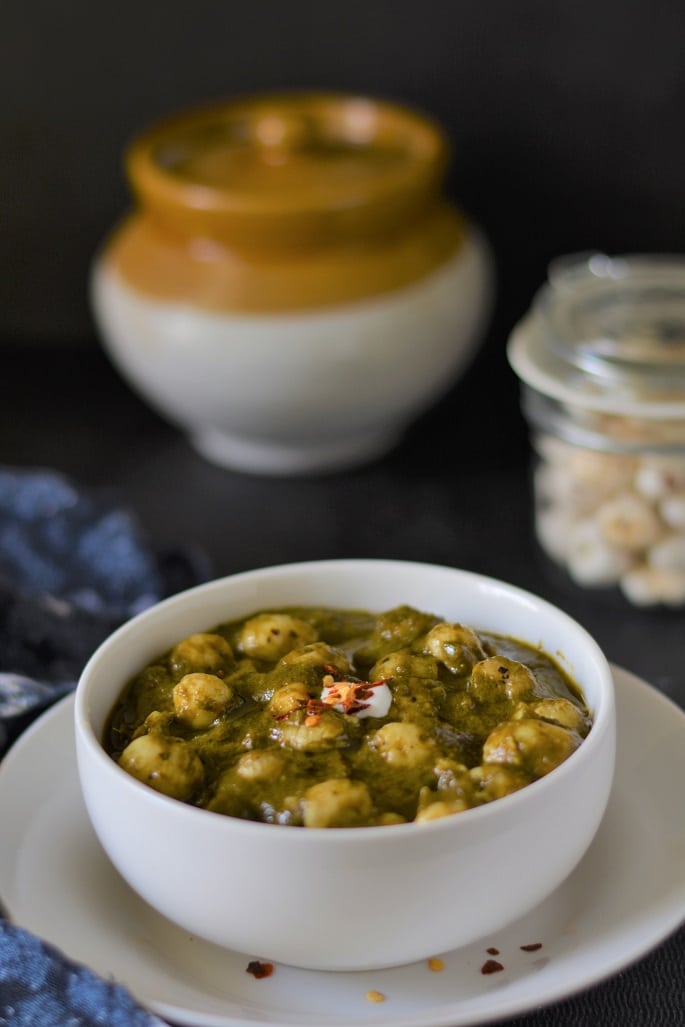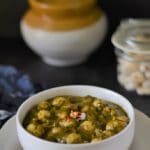 Remove the thick hard stems of spinach and wash spinach leaves with enough water

Boil 5 glasses of water in a wide pan and add 1/2 tsp sugar in it and when it start boiling add the washed spinach leaves.

Cook for 2-3 minutes or till the leaves change its colour.

Take out the leaves and refresh in cold water and then squeeze and grind to make a puree

Chop tomatoes and grind with green chilies and ginger.

In a pan add ghee or cooking oil and saute the makhana on low heat for 2-3 minutes and then take out in a bowl.

In the pan add 2 tbsp of cooking oil or butter and add cumin seeds.when cumin start to crackle add cloves ,cardamom,and bay leaves.

Now add tomato puree, turmeric and red chili powder and cook till oil start separating from the tomato mixture.

Now add the spinach puree, salt and sugar and mix well and now cook on medium heat for 2-3 minutes ,no need to cover the pan now.

Add the roasted makhana and cook for 2 minutes or till makhana become soft.

Add lemon juice and serve hot.

Serving suggestions- goes well with rice, pulao ,roti or parathas.
There is no Nutrition Label for this recipe yet.