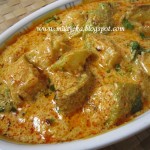 Peel and chop bottle gourd in big pieces.

Deep fry in medium hot oil till cooked and soft.(traditionally mustard oil is used in kashmiri cooking,but you can use any refined oil)

Heat oil in a pan add cumin asafoetida,cloves and cardamom.

When become golden, add churned curd and stir fry for 1 minute

Add all the spices and cook for 1 minute,keep stirring.

Now add 1/2 cup water (or add 1cup water if you want little thin gravy)and fried bottle gourd and cook coverd for 2-3 minutes on slow flame.

Garnish with fresh coriander.
Note-addition of turmeric is optional and you can substitute red chilli powder with green chillies .
Serving suggestions-serve with naan,roti,or with boiled rice
There is no Nutrition Label for this recipe yet.