Crispy shells dressed with various toppings and chutneys
Raj kachori, as the name suggests, is a royal treat! It is stuffed with a variety of traditional Indian toppings, savory munchies, and a combination of hot and sweet chutneys.Besides the great taste and variety of textures in the dish, a great part of this dish is that it is assembled live, right in front of the guests. If you have done your preparations right, then it is a very quick and easy dish to assemble and serve. The outer shells of raj kachori, and most of the other ingredients can be prepared ahead of time. The shells in particular, remain fresh for a fortnight so it is good to make them a few days before the festivities.
A mixture of boondis, papadis, boiled potatoes, boiled chickpeas, dahi vadas, sprouts can be stuffed inside the kachori. There is no fix list of components in the stuffings, and you can create your own version from whatever is easily available at hand, or can be prepared easily. You can just add potatoes, sprouts or boondis and some chopped tomatoes to make it a quick, light, and healthy appetizer.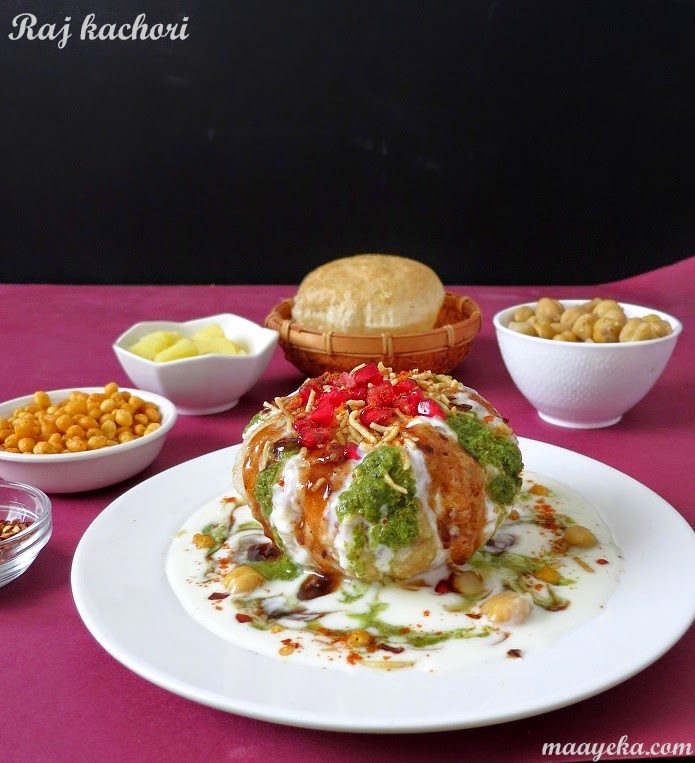 Prep time – 10 min
Cooking time – 20 min
Difficulty level – Medium
Spice level – Medium hot
Cuisine – North Indian
Type – Snack, Street food
INGREDIENTS-
To make Raj Kachori-
Semolina / Sooji -1 cup
Refined flour / Maida – 1 tbsp
Gram flour / Besan – 1/4 cup
Cooking oil – 2tsp
Chili powder – 1 tsp
Fruit salt / Eno – a pinch of (optional)
Salt – to taste
To assemble-
Chickpeas / Kabuli chana, boiled- 1 cup
Potatoes, boiled- 2 small
Dahi vada (only the vadas) – 6 piece
Boondi – 3 tbsp
Papdi, crushed  -8
Namkeen (Bhujiya / Nylon sev) – 3 tbsp
Pomegranate seeds – 2 tbsp
Yogurt / Dahi – 1cup
Mint or Coriander Chutney – 1/2 cup
Tamarind Chutney (Saunth) – 1/3 cup
Roasted Cumin powder – 1 tsp
Chili powder – 1.5 tsp
Black salt – 1 tsp
PROCEDURE-
In a bowl add all the ingredients listed to make Raj Kachori.
Mix everything well.
Add just enough water to make medium soft dough.
Cover and rest the dough for 15 minutes.
Knead it again and make small balls from the dough.
Roll to make medium thick pooris/discs
Slide the prepared poori in hot oil.
Press with a spatula to help it puff completely.
Reduce the heat to medium low and deep fry in from both sides till golden in colour
When done drain on a paper napkin.
Let them cool down completely.
Beat yogurt and add some salt and 1/2 tsp sugar.
When you want to serve then poke it on top and make a hole  in it.
Add chopped potato,chick peas,dahi vada.
Add some curd and green chutney.
Add some crushed papadi and boondi and fill it till the top.
Again drizzle yogurt,green chutney and tamarind chutney.
Add some bhujiya sev and sprinkle chili powder,cumin powder and black salt.
Garnish with anar dana/pomegranate seeds.
Serve immediately
There is no Nutrition Label for this recipe yet.