Dahi Aloo Chaat –  Quick and tempting snack of boiled potato,yogurt and Indian spices
Potato is the worlds most popular vegetable.We don't have to think much about using potatoes as there are endless numbers of recipes to make with potatoes.In fact most of the Indian street food are made with potatoes. side dish ,snack,curries and even dessert can be made with potato.
My favorite Potato recipes are – Potato halwa,  Potato bread rolls,   Minty potato,  Potato cup chat which I have already posted I have already posted. But these recipe need some pre planning, stir frying or deep frying. As we all know that if potato is fried then only it become loaded with calories, and boiled potato is not that high in calorie so can be used easily and guilt free.
This dahi aloo chaat is a popular street food/chat of North India specially from my home town.
boiled potatoes are soaked in yogurt and then roasted cumin powder, chili powder is sprinkled over it. A spoon full of green chutney and tamarind chutney is drizzled over to make it delicious and tempting.
This dahi aloo chaat is also a ideal recipe for fasting days as it didn't require frying or roasting and use the  delicious –Aam papad chutney and Green Mint chutney to drizzle over it if you are fasting.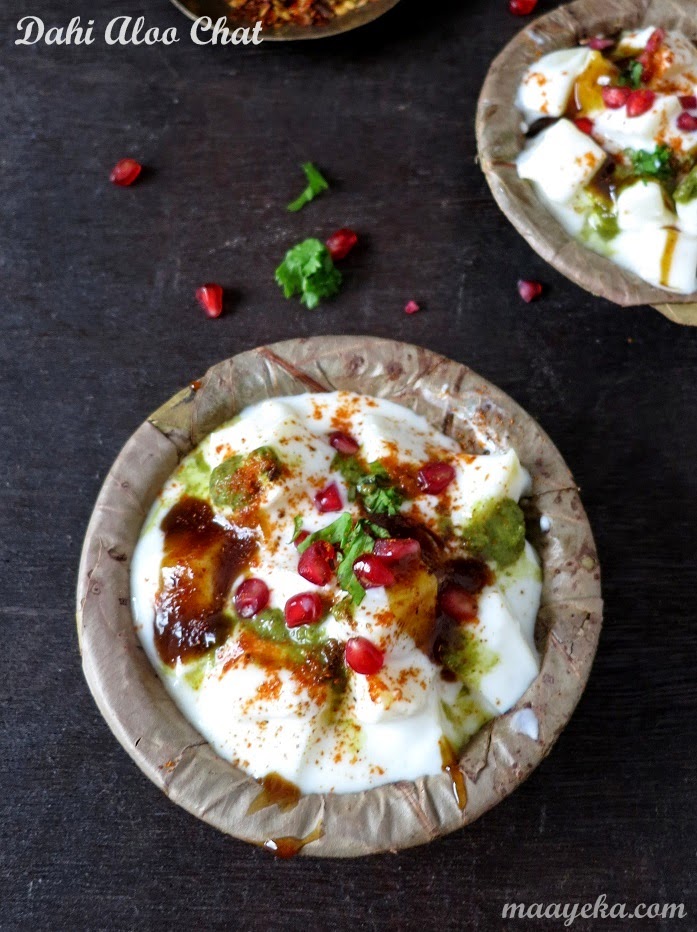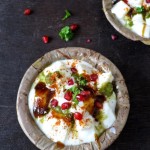 Peel and chop boiled potatoes into small cubes.

Take yogurt in a bowl and whisk it well

Add sugar,salt and black salt in the yogurt and mix well.

Add chopped potatoes in the yogurt.

Let it soak for 15 minutes.

Now serve in individual serving bowls.

Sprinkle chili powder and roasted cumin powder over it.

Drizzle some tamarind chutney, mint chutney and pomegranate seeds.
NOTE-
If you are fasting then use pepper powder instead of chili powder.
Use mango leather chutney /aam paapd chutney if you are fasting.
Instead of boiled potatoes you can also use deep fried potato cubes.
There is no Nutrition Label for this recipe yet.