Mildly spiced banana and fresh fenugreek stir fryFresh fenugreek is available in abundance in winters.Its a good source of Iron,Vit K, roughage, nicotinic acid and protein so very good to include in your daily diet in different forms.we make different recipes with fresh methi and the most popular is Methi aloo subzi and Methi Thepla and this quick and easy kela methi nu shaak
This kela methi nu shaak is a typical Gujarati specialty its quick and easy to make and taste so good .It have all the taste-sweet from banana,bitter from methi,hot from the chilies and sour from lemon juice.
You have to make it just before serving and then it taste best. Best served with with bajra roti and aloo shaak.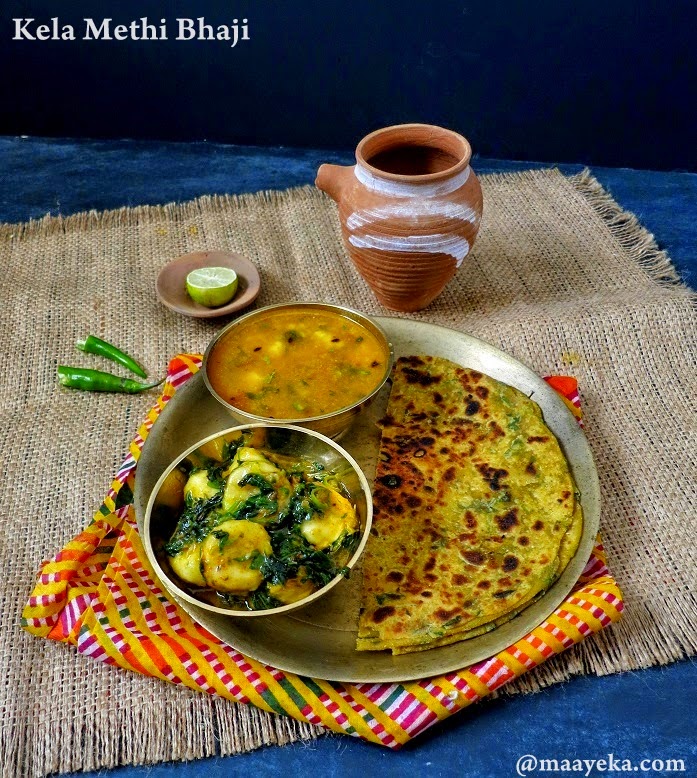 Prep time-10 min
Cooking time-5 min
Difficulty level-easy
Spice level-mild hot
Cuisine-Indian,Gujarati
Type-side,curry
Serve-2
INGREDIENTS-
Ripe banana -3
Fresh fenugreek,chopped /methi- 1.5 cup
Green chili,chopped -1.5 tsp
Ginger chopped -1/2 tsp
Lemon juice – 2 tsp
Sugar – 1 tsp
Salt – to taste
Turmeric -1/4 tsp
Chili powder- 1/2 tsp
Garam masala -pinch of
Cooking oil – 2.5 tbsp
Cumin seeds- 1/2 tsp
Asafoetida- pinch of
PROCEDURE-
Pick tender  leaves of methi and wash them well and chop finely.
Peel and slice banana in medium thick roundels and keep aside.
Heat oil in a pan and add cumin and carom seeds.
Then add chopped green chilies and asafoetida and stir till cumin become golden in color.
Now add chopped fenugreek leaves and 3 tbsp of water.
Cover the pan and cook till leaves get cooked.
Now add sugar,salt,chili powder ,garam masala and lemon juice in banana slices
Add turmeric powder in the pan and stir to mix.
Now add banana slices in the pan and stir gently.
Cook for few seconds or for a minute.
Serve hot with bajra or wheat roti.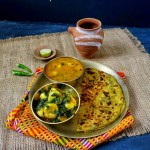 Print Recipe
Kela Methi Nu Shaak