Kashmiri dahi baigan- brinjals cooked in yogurt sauce
kashmiri dishes are famous for the use of flavourful spices ,though the process and ingredients are quite simple but the selection of spices and herbs make them so delicious and distinct from other cuisine .In kasmmiri cuisine whole spices, nuts, saffron, yogurt and a good amount of oil and ghee is used which makes the food rich and flavourful. Fennel powder,ginger powder, saffron and cardamom are used in almost all the dishes.
To make kashmiri dahi baigan you have to deep fry the brinjals first ,you can either chop them in cubes or cut lengthwise then the fried brinjals are added in the yogurt mixture and simmered for about 5 minutes. You can fry the brinjals before and make the curry when ever  you want to serve .This kashmiri dahi baigan recipe is quite easy and quick but  taste so delicious.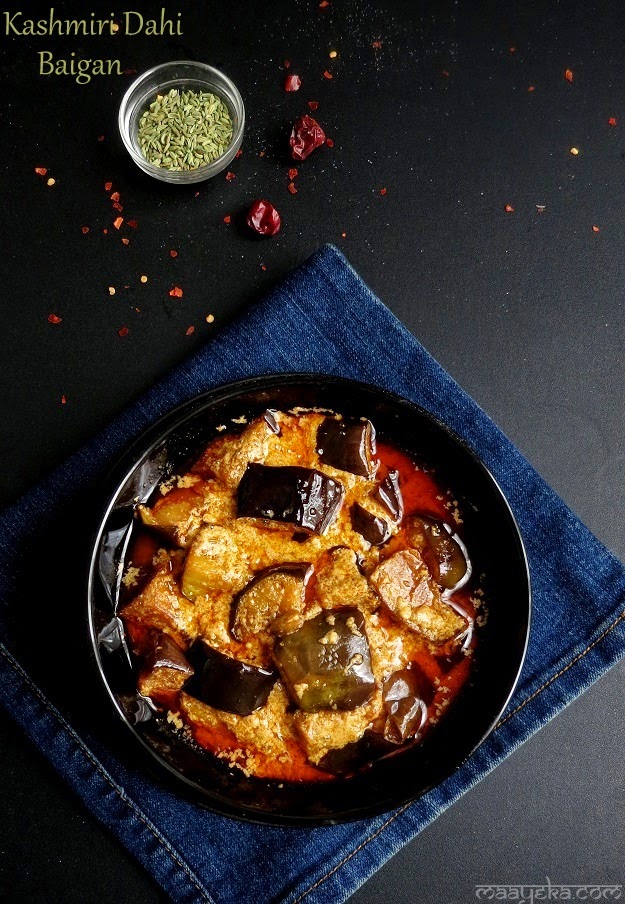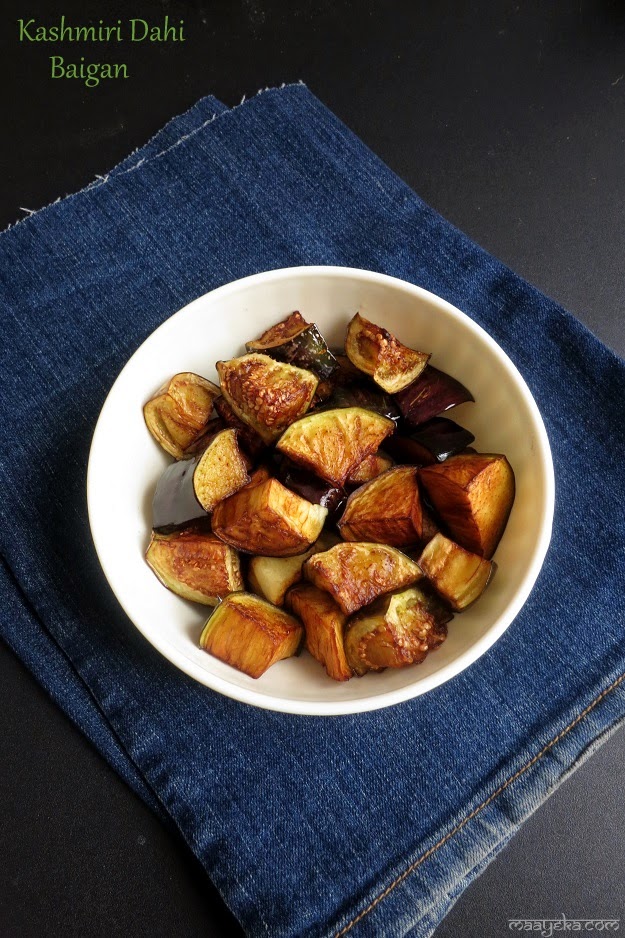 I love kashmiri food as it is easy to make and the flavour and taste is liked by everyone in my family.I often make-kashmiri – Chokh vangun , Doodhi yakhni ,the very popular- Kashmiri dum aloo , Apple and raw mango chutney and many other recipes.Try this kashmiri dahi baigan recipe ,you will surely love it.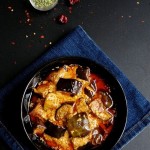 Wash and wipe brinjals and chop into medium size cubes

Heat oil in a broad pan and deep fry the brinjal cubes on medium heat

Fry till they become golden in colour .

Drain the fried brinjals on a paper napkin to absorb the extra oil.

In a heavy and wide cooking pan add mustard oil.

Mix all the dry spices with 2 tbsp water and keep aside.

Add green cardamom and asafoetida in the hot oil and when cardamom start crackling add the spice mixture in it.

Give it a stir,remove the pan from the stove and then add the whisked yogurt

After few seconds put the pan on the stove on medium heat and Keep stirring continuously to avoid curdling.

When it start boiling then add the fried brinjal pieces.

Cook on medium heat for abour 5-6 minutes.

When it start to thicken and brinjal pieces become soft then its done.

Serve hot with roti or steamed rice
There is no Nutrition Label for this recipe yet.